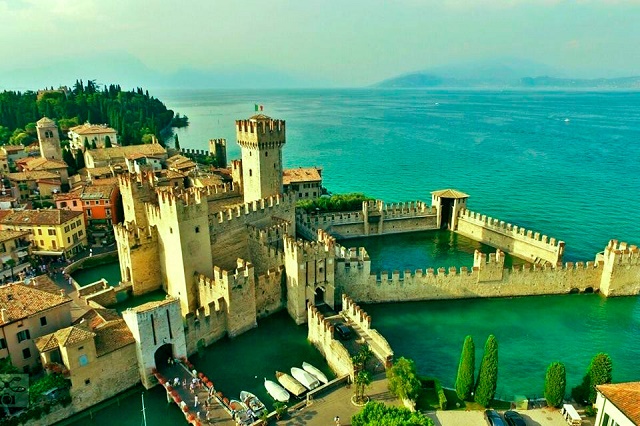 The most important tourist places in Sirmione, Italy
The most important tourist places in Sirmione, Italy
The Italian city of Sirmoni has many wonderful tourist attractions. Here are 8 of the most beautiful places to visit in Sirmoni, Italy, which are recommended to visit during your tourist vacation: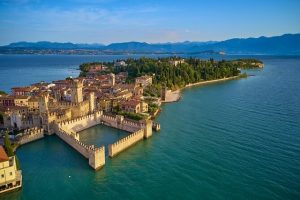 Sirmoni Beach, Jamaica
Sirmione has beautiful beaches, with attractive sites and the clearest waters in Lake Garda. Jamaica Beach is a favorite tourist beach for visitors and tourists alike. It is an unusual beach, with flat rock slabs extending into the water, a free beach with no entrance fee, very clean and uncrowded, which makes the beach experience completely different.
Jamaica Beach in Sirmoni offers visitors a lot of great recreational activities, the most important of which are safe swimming in the shallow waters, relaxing, sunbathing in the grassy area next to the beach, renting a kayak, kayaking, and exciting surfing, as well as lying on the rocks and enjoying the surrounding area . The beach is wonderful and well worth a visit.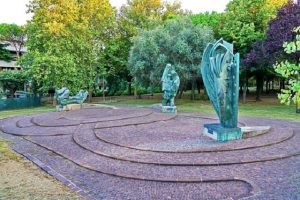 Scaliger Castle
Scaliger Castle Sirmoni
Located at the entrance to the peninsula, the historic Scaliger Castle is a unique castle, dating back to the 13th century. It is one of the most complete and well-preserved Italian castles. It is a castle surrounded by water, and is considered one of the most famous and most prominent tourist attractions in Sirmoni, Italy.
Scaliger Castle is a rare example of medieval harbor fortification, as the castle stands at the entrance to the peninsula, making it an ideal place for fantastic views. You can go up to the top of the castle, and enjoy a stunning view of Sirmoni and Lake Garda, either from the lake or from the surrounding hills. Unique artifacts can also be seen in the castle museum.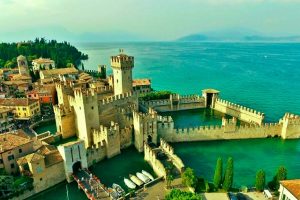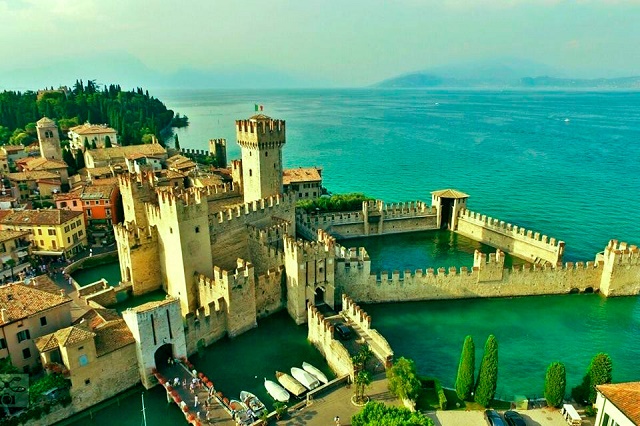 Lake Garda
Lake Garda, Italy
Lake Garda is the largest lake in Italy, and the Sirmione Peninsula is the perfect base for exploring the beautiful surroundings of this wonderful lake. It is one of the most important tourist places in Sirmione, Italy, which we advise you to visit and not to miss.
There are many tours available to explore the lake, and opportunities abound along the coast to enjoy water sports of all different kinds. You can also choose different boat tours, of which sunset boats are among the most famous, as well as swim in the many lake beaches, the most beautiful of which is Jamaica Beach. This is as well as exploring historical sites such as Villa Borghese, the Roman Caves of Catullo, Castle Scaliger, and sulfur springs.