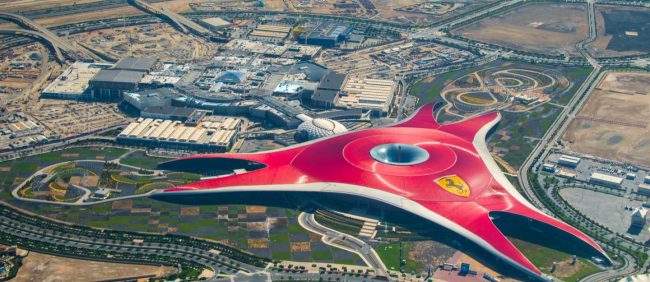 The best amusement park in Abu Dhabi
The best amusement park in Abu Dhabi
Abu Dhabi contains all the elements of tourism and provides all the tourist services that attract the population. It contains the most important amusement parks and we review the most important ones.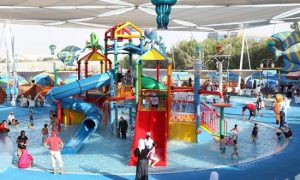 1- Yas Waterworld
Yas Waterworld is another great theme park in Abu Dhabi and is located 10 minutes drive from Abu Dhabi International Airport, 30 minutes from downtown Abu Dhabi, 90 minutes from Dubai International Airport.
In Yas Waterworld, you will find an amazing collection of water games that are among the best and most exciting and varied in the world, including the "Bandit Bomber" roller coaster train with water and light effects, and water slides.
Where you can compete with other Yas Waterworld racers, the ultra-long, multi-curve Slithers water slides.
There is also the water guns area and the water wars area where children can have a great time playing with water weapons, and there is also the fun castle and the river of comfort, both of which are favorite places for families and children in Yas Waterworld.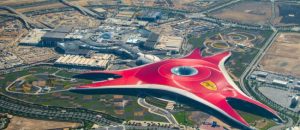 2- Ain Marina Abu Dhabi
It is a huge rotating wheel and enjoys an important strategic location that dominates the horizon in front of one of the favorite shopping centers in the capital (Marina Mall) and includes cabins that accommodate 8 people of different ages.
Ain Marina Abu Dhabi also contains 42 cabins, including a VIP capsule, which is equipped with the latest equipment. Each cabin is air-conditioned and covered with glass from all parts to allow you to enjoy an amazing view of the city, a wireless communication system and a panic alarm system.
It is considered one of the best recreational places in Abu Dhabi, as the wheel gives you wonderful views of the surrounding area on the Marina Island. The 196-foot (60 m) trip to the Abu Dhabi Marina Eye takes about five minutes, during which you will get four complete turns in which the wheel rotates very quickly, in every moment in this Few minutes is a chance to enjoy unparalleled views of Abu Dhabi, the Corniche and the magnificent view of the Emirates Palace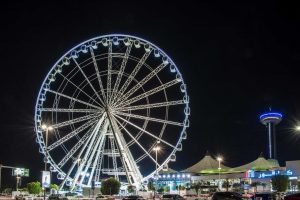 3- Ferrari World
Enjoy an adventure filled with excitement and fun at the Ferrari theme park. Ferrari World is located on Yas Island in Abu Dhabi and occupies an area of ​​200,000 square meters, making it the largest indoor theme park in the world.
Ferrari World contains a range of amazing games specially designed to give children and family an unparalleled experience, including GeForce, one of the best roller coasters in the world.
There is also a karting track where you and your family can enjoy the experience of car racing and there are also games and simulators that are among the latest and best in the world, and there is also a Ferrari factory that will take you on an exciting journey through which you will learn about what is happening inside the real Ferrari factories.
Then you can enjoy the experience of shopping inside the Ferrari Store, where you will find all the wonderful souvenirs you may want for you and your family to take with you from Ferrari World.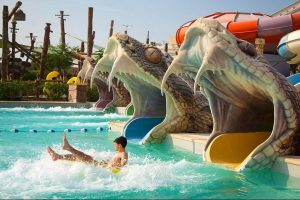 4- Abu Dhabi water park
Abu Dhabi Waterpark is the largest water park in the Middle East where friends and families can enjoy an exciting range of rides. The main idea of ​​Abu Dhabi Waterpark is that it is built on the legend that represents the local Emirati culture and heritage.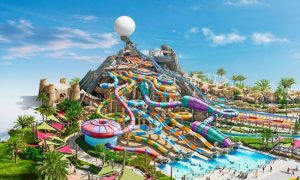 5- Marjan Water Park
The water park located in Khalifa Park offers no less than seven water attractions, all for children up to 12 years old.
The most important thing in the park is the water fun games, which are four small water slides installed in a shallow pool, a huge inclined water bucket, a narrow tunnel, water cannons, a water umbrella, small and inclined water buckets, a water wheel, and pools.
The park also has a quiet river, 257 meters long and 0.6 meters deep, for shallow swimming for children. As for children who have a more adventurous sense, they can try their skills in water balloon war. Floating Cushions are four trampoline platforms with straps for children to enjoy jumping and somersaulting on.
Kids aged 11 and under have a Wrangler turtle testing their balancing skills by riding a motorized skateboard along with the lagoon's small, shock-absorbing, steerable, battery-powered boats: they're made for kids to drive and bump into each other.
Abu Dhabi also contains many amusement parks that are worth visiting during tourism in Abu Dhabi. You can view a comprehensive article on the best amusement parks in Abu Dhabi.