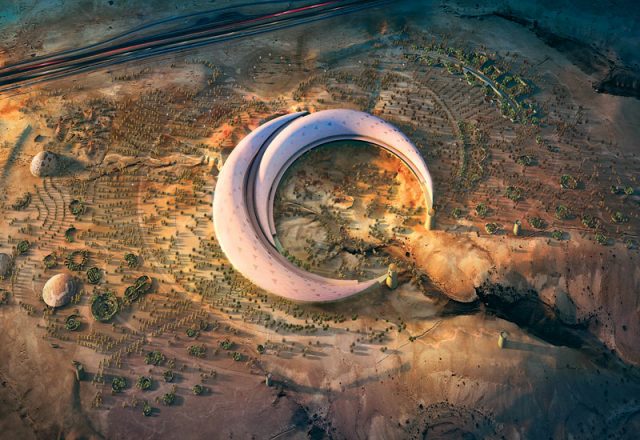 Tourism in Irbid: The most beautiful tourist areas in the Jordanian city of Irbid
Tourism in Irbid: The most beautiful tourist areas in the Jordanian city of Irbid
Jordan has many wonderful tourist cities, the most important of which is the city of Irbid, which is the second largest Jordanian city. Tourism in Irbid is one of the most important and prominent Jordanian tourist destinations, due to its important archaeological sites, historical landmarks, historical museums, and some of the Roman antiquities and others.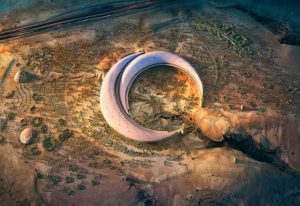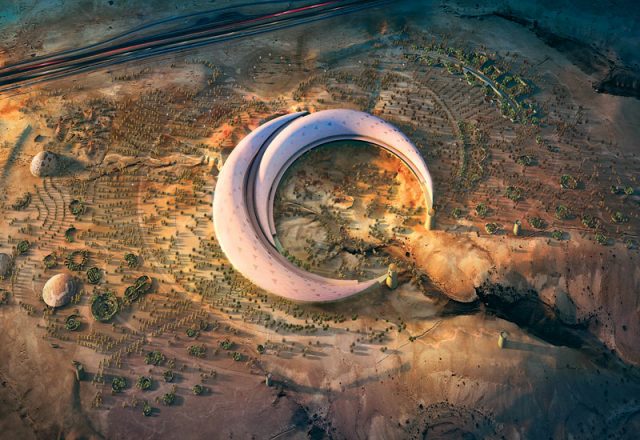 It also includes many recreational parks, gardens with green spaces, and other natural components such as high mountains, which allow its visitors to enjoy mountain climbing. There are also many shopping malls, lively streets, children's amusement parks, high-end hotels and much more. The Jordanian city of Irbid is called the Bride of the North.
King Abdullah II Gardens
King Abdullah II Gardens, one of the most famous recreational and tourist parks in the city of Irbid. It is equipped with all service facilities and recreational elements.
King Abdullah II Gardens includes many wide green spaces, and paths for walking, jogging and cycling. In addition to various playgrounds for practicing all kinds of different sports. There are also restaurants that serve delicious food to visitors.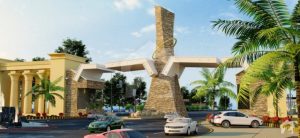 Tunis Garden
garden in Irbid, Jordan
Tunis Garden is one of the most famous Jordanian amusement parks. The park is located in the eastern neighborhood. It is considered one of the most beautiful natural tourism areas in Irbid.
Tunis Park is characterized by its natural beauty, as it has a picturesque collection of green trees, fragrant plants and flowers, as well as wonderful walking paths, which attract sports and cycling enthusiasts. All this in addition to a dedicated children's play area.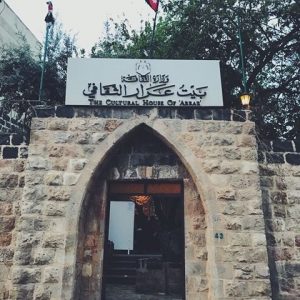 Emaar Park Irbid
Eimar Irbid Park
Emaar Park in Irbid is one of the city's finest recreational parks. The park is located in the southern district of Irbid. Emaar Irbid Park provides its visitors with all recreational services, such as places to sit with family or friends, walking paths, and beautiful green areas.
In addition, this park features a large variety of games, which are suitable for all different ages, young and old. The park has a special entrance for wheelchairs, which made it the main destination for hiking in Irbid.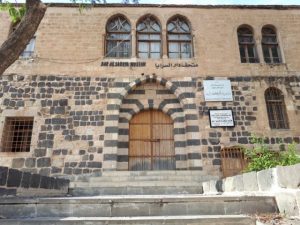 Galilee Park Irbid
Aljaleel Park
Irbid Galilee Park is one of the important recreational parks that visitors come to in the city again and again. It is considered the main haven for families, and one of the most popular entertainment spots in the city.
Irbid Galilee Park has many green spaces, as well as many interesting water games, which are preferred by adults and children. As well as swimming pools with safety and security specifications for children, and wonderful slides for visitors to the park. It is one of the most interesting tourist attractions in Irbid, Jordan.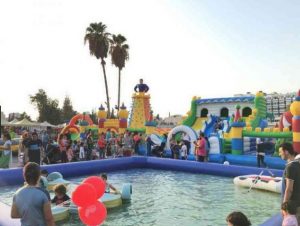 Museum of Archeology and Anthropology
irbid museum anthropology
The Jordan Heritage Museum is famous for its many artifacts, which belong to a group of different Jordanian historical eras. Therefore, it is considered one of the important tourist attractions in Irbid.
When you visit the Museum of Archeology and Anthropology in Irbid, you can see its rare artifacts, such as statues dating back to the Neolithic era, the Bronze Age and many others, which increase the pleasure of touring the museum, especially for antiquities lovers.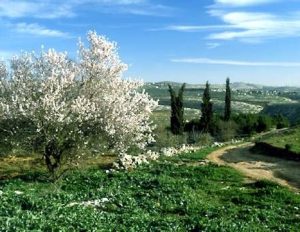 Jordan Natural History Museum
Dar As Saraya Osmanli Museum
The Jordan Natural History Museum is the first science museum in the city of Irbid. It is located at Yarmouk University, and is intended for large numbers of tourists, to learn about the important scientific documents it contains.
The Jordanian Natural History Museum in Irbid includes many wonderful geological, botanical, and animal exhibits. As well as scientific and educational references, which added to it an important position, and made it a major reference for those interested in studying the environment and nature at the global level. It is a museum that showcases the natural history of the region, using the latest technological displays.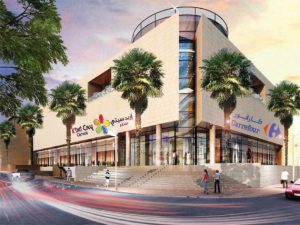 Roman baths
Roman Ruins in Jordan
The Roman Baths in Irbid are one of the most famous tourist attractions in the city, with thousands of visitors annually. The Roman baths are located in the heritage area of ​​Umm Qais, and were used by the Romans on a daily basis.
These bathrooms consist of a group of rooms, and each room has a private use. You will find rooms with cold water, and other changing rooms, and finally rooms with hot water, which is used for massage and massage. And the animals that were used by the people, we find that they are decorated with wonderful decorations and frescoes, and the unique Roman architecture.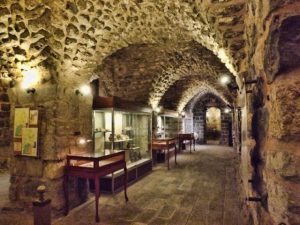 Western theater
Umm Qais theater
The Western Theater is one of the remaining ruins of the Roman civilization, in the Jordanian city of Irbid, as its construction dates back to the second century AD. It is one of the most prominent tourist areas in Irbid.
The western theater has distinctive architectural designs, highlighting the Roman architectural style. It is a large open-air theatre, with a capacity of about 3000 people. The theater includes a huge group of statues of Roman gods, which were made of white marble.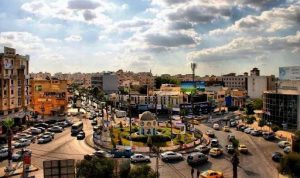 Saraya House Museum
Dar As Saraya Osmanli Museum
Dar Al Saraya Museum in the Jordanian city of Irbid, one of the old tourist areas in the city. It is one of the oldest historical and archaeological monuments in Irbid.
It is a palace built by the Ottomans in 1886 AD, for the convenience of pilgrims during their journey to the Holy Land. The museum is distinguished by its magnificent architecture
The columns built of basalt stones, which indicate the greatness of this historical period. The museum also includes a distinguished collection of artifacts, statues and ancient heritage artifacts.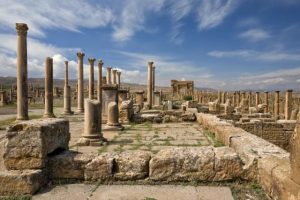 Tabaqat Fahel area
Tabqet Fahel
Tabaqat Fahl is one of the prominent tourist centers in the Jordanian city of Irbid, as it is one of the city's wonderful historical monuments, dating back to the Bronze Age.
This area includes many archaeological monuments, which still exist today in full splendor. As well as commercial centers, which sell pottery of various shapes and sizes.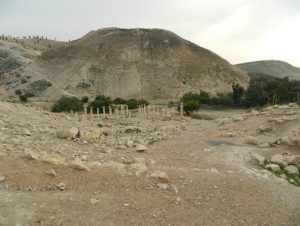 Waterfall Valley
Wadi Al Shallala
Wadi al-Shalal enjoys a temperate climate, which has greatly attracted tourism in Irbid. It is one of the ideal tourist destinations in the Jordanian city of Irbid, with a length of about 19 kilometers.
Wadi al-Shalala includes many interesting places to visit, such as the Yarmouk Tunnel, Khirbat al-Zirqun and many ancient sites, such as Roman and Byzantine tombs carved on rocks, the remains of a Roman bridge and many other landmarks.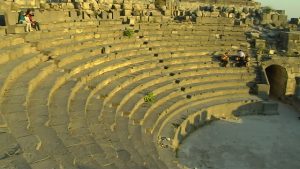 Irbid city center
Irbid City Center
Irbid city center is one of the modern civilizational landmarks in the city, it was opened in 2013. It is one of the ideal tourist destinations in the region.
With an area of ​​about 87 thousand square meters, Irbid Center is the largest modern shopping center in Jordan. It consists of seven floors, and includes many high-end shops, with local and international brands. All this in addition to children's clubs, restaurants and cafes, and many other important services and facilities.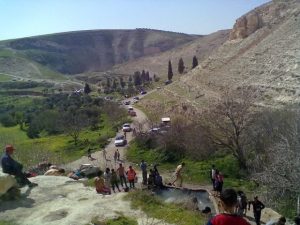 Beit Arar Cultural Museum
Arar's Cultural House
Beit Arar Cultural Museum in the Irbid region of Jordan, one of the important cultural tourism destinations in Irbid, where visitors come from inside and outside the city, especially lovers of poetry and cultural forums.
The museum was the residence of the Jordanian poet "Mustafa Wahbi", then it was expanded to this distinguished cultural museum, which includes many of this poet's holdings and manuscripts of his original poems.