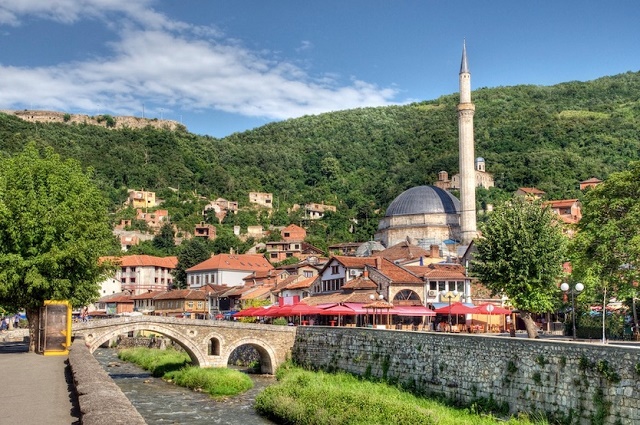 Tourism in Kosovo and the 5 most important tourist destinations worth visiting
Tourism in Kosovo and the 5 most important tourist destinations worth visiting
Tourism in Kosovo, the newest country in Europe, gives you an enjoyable experience full of interesting adventures. This is where it enjoys virgin natural jewels, and an archaeological heritage of the Illyrian, Dardanese, Roman, Byzantine, Serbian and Ottoman periods. This is in addition to the architecture, religious heritage, distinctive traditions and many other tourist attractions.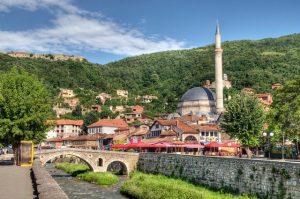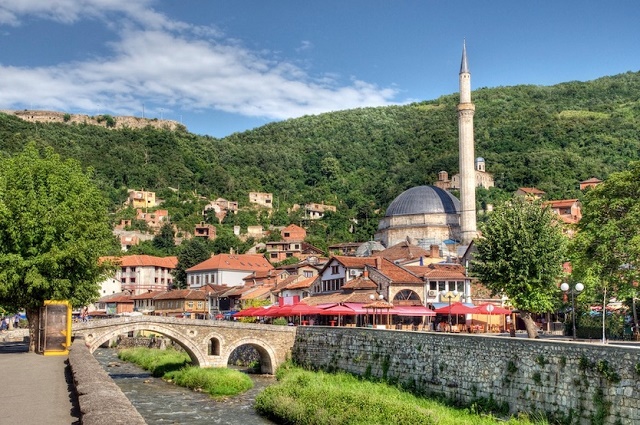 Kosovo has a distinctive geographical location that made it one of the important tourist destinations that attract millions of visitors continuously throughout the year, as it is located in the Balkan Peninsula, and has many tourist attractions. With it, the most important information and tips before traveling…
Tourism in Kosovo
Discover tourism in Kosovo
Kosovo offers you the best tourist experiences in the Balkans, with its hiking possibilities, mountain towns with ski resorts, marble caves, remote forests, domed 13th-century Serbian monasteries, museums, castles, mosques, nature reserves, parks, lakes and waterfalls. This is in addition to its friendly people.
Best places to stay in Kosovo
Kosovo has a great selection of diverse hotels, to suit different budgets and categories, for you to choose from what suits you. You will find luxury and medium hotels there, as well as hotels for people with limited budgets… Read more about the best hotels in Kosovo.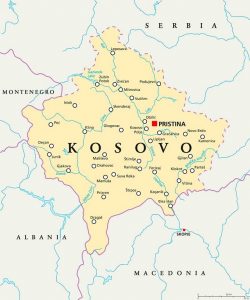 Where is Kosovo located?
Where is Kosovo located?
The Republic of Kosovo is located in the southeast of the European continent, specifically on the Balkan Peninsula. Kosovo is bordered by many countries: (Serbia, Albania, Montenegro, Macedonia).
Best time to travel to Kosovo
The best time for tourism in Kosovo is between (April 30 to September 30). These months have ideal temperatures for various tourist activities, although Kosovo has a rather mild climate compared to tourist destinations around the world. It is worth noting that:
Spring (from March to June):
Spring is an ideal time for tourism in Kosovo, characterized by moderate temperatures ranging between (23.6 – 8.4 degrees Celsius) with little rain. It is witnessing a small number of tourists. This allows you to benefit at a lower cost and explore the country freely. It is the perfect season to visit the bear sanctuary, visit spooky caves and a lot of great activities.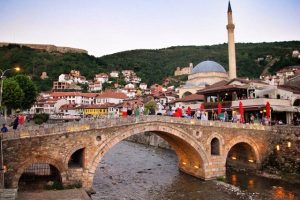 Summer season (from July to August):
Summer is also an ideal time for travel and tourism in Kosovo, characterized by beautiful weather with relatively high temperatures. It is the peak season for tourism in Kosovo and the most expensive. It allows you to enjoy exploring the country in the fresh air, and to attend many wonderful film festivals.
Autumn semester (September to November):
Autumn in Kosovo is characterized by temperatures ranging between (25.8_9.2) degrees Celsius, and is characterized by cold and snowfall. It is a low tourist season due to the weather, so hotel prices may be reasonable. If you are a fan of winter activities, you can try traveling during the fall.
Winter season (from December to February):
Winter is very cold in Kosovo, with temperatures ranging between (10.1_ 2.6) degrees Celsius, but it is fun to do many exciting tourist activities such as snowboarding in the mountains, as well as participating in holidays such as celebrating Christmas and New Year, and having a delicious traditional dinner In one of the best restaurants in Pristina.
The language in Kosovo
The official languages ​​of the Republic of Kosovo are Albanian, Serbian and Bosnian. There are many other languages ​​spoken in the country such as Turkish, Romanian, and many others.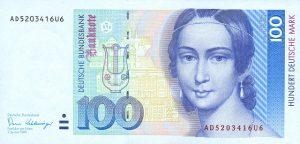 Tourist visa for Kosovo
Tourist visa for Kosovo
For a perfect tourist holiday in the Republic of Kosovo, you will need to obtain a visa to travel to Kosovo. There are a set of rules and documents necessary for obtaining a tourist visa in Kosovo, the most important of which are as follows:
Application form for obtaining a tourist visa to Kosovo.
A valid and valid copy and passport.
Pay the Kosovo tourist visa fee of $40.
A recent, color photograph.
A bank statement for the last three months to ensure that you are able to spend for the duration of your trip in Kosovo.
International travel insurance certificate.
Proof of hotel reservation or accommodation in Kosovo during the duration of your tour.
Reservation of a round trip flight ticket.
Work certificate with job title and salary.
There are a group of Arab countries that are exempted from the Kosovo visa application, namely:
Jordan.
The UAE.
Diameter.
Oman.
the two seas.
Saudi Arabia.
Kuwait.
The ideal period for tourism in Kosovo
The ideal period of tourism in the Republic of Kosovo is about three days, which is sufficient time to explore most of the prominent tourist attractions in the country and do the most enjoyable recreational activities, and here is a tourist program for an ideal tourist vacation in Kosovo that you can modify as you wish: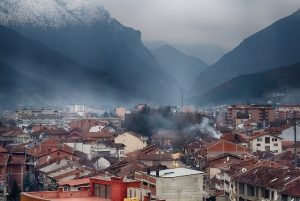 Day 1: Explore the Kosovar capital, Pristina
Visit Pristina and discover its main attractions, including the monument, the National Library, the Sultan Muhammad Al-Iman Mosque, the
Ethnological antiques, and the clock tower. In addition to wandering down Mother Teresa Street, shopping in the old bazaar and eating the most delicious local food.
Day Two: Visit the city of Brisbane
And then visit the city of Prizren and enjoy interesting tours in the wonderful historical sites, such as the Prizren Castle, the Prizren Bath, and the old stone bridge over the Bistrica River, then shopping in the city's markets, and buying the most beautiful souvenirs of unique handicrafts.
Third day: Go to Jakova
Get acquainted with Kosovar culture in the central square of the old town of Jakova, and enjoy delicious drinks and traditional food. In addition to visiting the Great Hodom Mosque, and going to Chabrati Hill to enjoy the best charming views of the city from above. And then preparing to return home and leave Kosovo.
How much does tourism cost in Kosovo?
Knowing the cost of various tourism services and activities, helps you plan well for your vacation. Learn about the average prices of tourism services and various recreational activities in Kosovo:
The average daily expenditure per traveler in Kosovo is 40 USD.
The average cost of hotel rates per person is about 25 USD.
Accommodation prices for a couple in Kosovo are approximately 42 USD.
The average cost of local transportation within Kosovo is about 7 USD per day.
The average daily expenditure on meals and water in Kosovo per capita is 8 USD.
The cost of recreational activities per day per person in Kosovo is about 5 USD.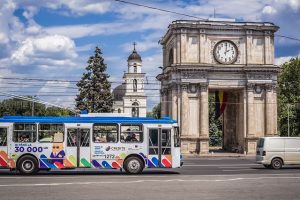 Transportation and transportation in Kosovo
Transportation and transportation in Kosovo
You can move around Kosovo using many different local transportation methods, which are fast and highly efficient. The following are the most important types of transportation and communications in Kosovo:
trains:
Inland railways in Kosovo are generally poor, and less reliable than buses, although traveling by train gives you some of the best scenery in the country.
car rental:
Car rental is the best way to get around in Kosovo, as both major international and local companies offer car rentals at airports and large cities at affordable prices.
Taxi:
When traveling by taxi, you have to choose a car with a meter, as you will only pay the regular price per kilometer. This is to avoid exploitation or fraud.
buses:
Kosovo has many buses and coaches, most of which are comfortable, high-speed and air-conditioned. Tickets are paid on the spot, are reliable, frequent and cover most parts of Kosovo.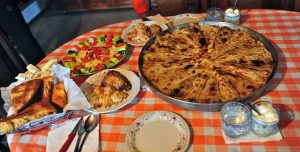 Food and drinks in Kosovo
Food and drinks in Kosovo
Kosovar cuisine has Turkish, Balkan and Albanian influences, and dairy products, meat and bread are staples in the cuisine of the Republic of Kosovo. This is in addition to fruits and vegetables. Here are the most important traditional Kosovar foods that we advise you to try, including: "pancakes, stuffed peppers, kebabs, borek, and sarma."
There are also many drinks that Kosovo is famous for, the most important of which are: "Kos" which is a yogurt made from goat's milk, ayran drink, Turkish coffee, Rasuj which is a juice made from fermented red cabbage and is very popular in winter, and Boza which is a sweet salted corn drink suitable for Pastry, kompot A sweet, non-alcoholic drink made from local stewed fruit with sugar and flavored with cinnamon or vanilla. It is served hot during the fall season.
The official currency of Kosovo
The official currency of Kosovo
The euro is the official currency of the Republic of Kosovo. The euro is divided into one hundred euro cents.
Communications and the Internet in Kosovo
Kosovo has a wireless and internet network that is among the best in the world, providing high-speed, reliable internet connections at prices much lower than those in America and Western Europe. There are three main mobile phone companies in Kosovo: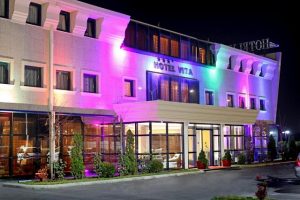 Vala
IPKO
Z-Mobile
They are companies that provide many offers and services that customers constantly need at competitive prices.
Distance between the most popular cities in Kosovo
If you intend to travel between tourism cities in Kosovo, here are the distances between the most famous major cities in Kosovo:
Rishtina to Prizren 62 km.
Jakova to Deccan village 22 km.
From Jakova to Dragas 73 km.
Jakova to Glugovac 63 km.
Jiakova to Suva Rica 50 km.
Peja to Suva Rica 76 km.
Gilan to Deccan is 97 km.
Deccan to Pristina 96 km.
Vitina to Istock 88 km.
Steim to Dragas 55 km.
Podojiva to Vochtari 21 km.
Orahovac to Leposavik 79 km.
Rent a car in Kosovo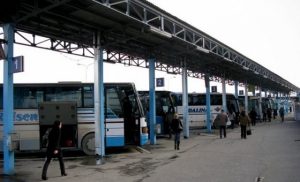 If you want to explore Kosovo on your own, enjoy the mountain views on both sides of the road. The best way to do this is by self-driving. There are a large number of car rental companies in Kosovo. Here are a set of important conditions, rules and tips for renting a car in Kosovo, including:
Have a driver's license valid for at least one year, and an international driving licence.
You must be at least 21 years old, and you may have to pay additional fees if you are under 25 in some companies to make up for the lack of age and experience.
It is mandatory to wear a seat belt for all passengers while driving the vehicle.
Note that children under 12 years old cannot sit in the front seat of the car.
Driving is on the right side in Kosovo.
There are no toll roads in Kosovo at all.
It is illegal in Kosovo to use a GPS device with a warning feature for a speed camera.
Speed ​​limits must be strictly adhered to in Kosovo:
80 km / h on the open road.
50 km/h in towns and cities.
130 km / h on green lanes.
The best tourist cities in Kos
Kosovo has a natural diversity that guarantees you a unique and enjoyable tourist experience, as well as its wonderful archaeological sites. Here are the most important and best 5 tourist cities in Kosovo that we advise you to visit…
Tourism in Pristina
Pristina
Pristina is the capital and largest city of Kosovo, and it is one of the country's tourist cities worth visiting. It is a wonderful mixture between the past and the present, and its atmosphere is charming. You can enjoy many wonderful recreational activities, which will make you have a perfect tourist vacation.
You can explore many historical buildings and museums such as the Kosovo Museum, Emin Jeko Ethnographic Museum, Sultan Mehmet Fatih Mosque, and Jeremiah Park. Plus vibrant New Born sculptures, the National Library, a memorial, and a clock tower.
And don't miss seeing the modern high-rise buildings, wandering down Mother Teresa Street, visiting the bustling nightclubs, the old market, the Germiya Park, and eating the most delicious food and drinks in the cafes in the city.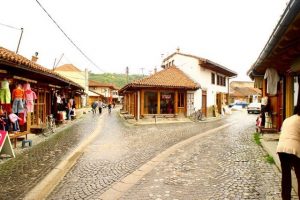 Tourism in Brisbane
Prizren
Prizren is located in the foothills of the Char Mountains, near the borders of Albania and Macedonia. An old city full of historical sites, it is also considered the cultural capital of Kosovo, and it is definitely one of the most attractive areas in Kosovo. Prizren is famous for its architecture, which dates back to the Roman, Ottoman and Byzantine eras.
Among the most famous historical sites to visit are the Church of Our Lady of Levis, which is included in the UNESCO World Heritage List, and the castle of Prizren, which dates back to the eleventh century, and to reach the top of the castle and see the most wonderful panoramic views of mosques, churches and bridges such as the old stone bridge, and the red roofs of houses.
This is in addition to attending many wonderful summer festivals in the city of Prizren, and easy access to enjoy the picturesque mountain scenery, Sinan Pasha Mosque, Prizren Catholic Cathedral, Ghazi Mehmed Pasha Bath, and the old fountain.
Tourism in Beja
bekha
Peja is a town located in the western region of Kosovo, and is the second largest city. It is also located near the border of Montenegro, which makes it a major tourist attraction in the country, in addition to its cultural and heritage richness and charming natural landscapes.
Surrounded by mountains at the foot of the mountain range, the city of Peja allows its visitors to do exciting adventures in the outdoors, so you can hike, take a trip or just enjoy the outdoors in this beautiful region of the Balkans.
Also, do not miss a visit to Rogova Canyon, the Old Patriarchate, a medieval Serbian Orthodox monastery that is a UNESCO world heritage, (Bajraklı Mosque), the Ethnic Museum, Haksi Zikkas Mill, the Old Bazaar, Lake Likinat, and Peak Hijla Piya.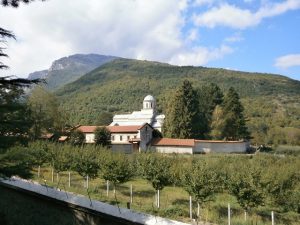 Tourism in Jakova
Jakova
Jakova is a beautiful city located near Prizren in Kosovo, and it is one of the best tourism cities in Kosovo that is worth a visit. This is for one main reason, which is that it is home to the longest market in the Balkans. Jakova offers you the enjoyment of wandering the Grand Bazaar, which stretches for a kilometer and is lined with many wonderful shops. It is the oldest and largest market in Kosovo.
It is a unique and ideal place to buy original souvenirs, made by local artisans, sip excellent Turkish coffee, go to the wonderful malls, various restaurants, the city's ice rink, and relax in the national parks.
You can also visit the 16th century Hadom Mosque, the 15th century Khayat Bridge, the Holy Bridge, and jump off the bridge into the water. And don't miss a stroll above the city at dusk to admire the various ancient religious monuments of Jiakova, such as the towering St. Paul's Church, St. Peter, the Ethnographic Museum, the clock tower and the many Turkish tombs of Jiakova.
Tourism in Deccan Village
Deccan Village
Deccan village is one of the most important and famous tourist attractions in Kosovo. It is a town located in the west of the Republic of Kosovo, and contains many archaeological sites and attractions, in addition to its beautiful natural landscapes. It is known as (the place of chestnuts) because most of the lands where the mountains are grown in which a lot of chestnuts grow, it is worth visiting and discovering.
The village of Deccan has many wonderful tourist attractions that made it a major place for tourism and entertainment in Kosovo, including enjoying exciting adventures and interesting sports in the beautiful vast mountains "Albanian Alps" that surround it, such as snowboarding, sledding, snow throwing and others in Prezovica ski resort on Mount Char.
As well as exploring the diverse wildlife in the forests and pastures of the Deccan, the unique animals, and inhaling the fresh mountain air, in addition to visiting the "Venisuke Decani Monastery", which is considered one of the most famous monasteries in the world, as it is a UNESCO site. The monastery was erected in a chestnut grove by Serbian King Stefan Oros in 1327, and also wander in and out of the monastery and learn about its amazing architecture.
And do not forget to enjoy watching the wonderful Mirosha Falls, a series of waterfalls, found in the Mirosha River and located between lakes, along with picturesque landscapes, rocks and caves that paint a painting of fantasy nature, and enjoy swimming, especially in the summer. In addition to relaxing in the tranquil Rogova Valley, it is the ideal place for harmony and tranquility as it is undetected, providing a unique leisure experience for lovers of eco-tourism and countryside.
Tips before traveling to Kosovo
Before you travel to Kosovo, here are the most important facts