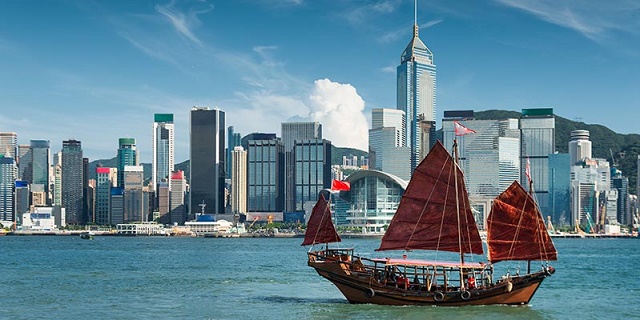 Tourism in Hong Kong and 5 tourist places not to be missed
Tourism in Hong Kong and 5 tourist places not to be missed
Tourism in Hong Kong is an exciting adventure and a unique experience full of pleasant surprises. In recent years, Hong Kong has become one of the most famous tourist attractions in the world, due to its diverse tourism potentials, including its historical and cultural sites, and its charming nature.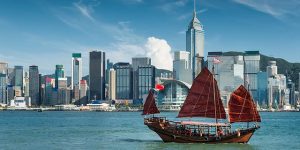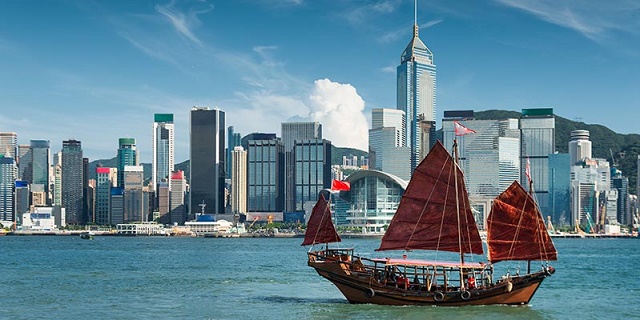 Hong Kong is a vibrant city, a global melting pot in which Western and Eastern cultures coexist. It also allows you to enjoy watching the skyscrapers and ancient religious temples, as well as mountains covered with green forests, wonderful beaches, sparkling islands, beautiful fishing villages and many other wonderful tourist attractions.
Tourism in Hong Kong
Explore the tourism in Hong Kong
If you intend to travel to Hong Kong for a tourist vacation, explore the following tourism in Hong Kong as well as learn about the most important tourist cities and important tips before traveling.
Best places to stay in Hong Kong
Hong Kong hotels are distinguished by their wonderful locations, and their charming views. The accommodation in it is varied to serve all different groups… Read more about the best Hong Kong hotels.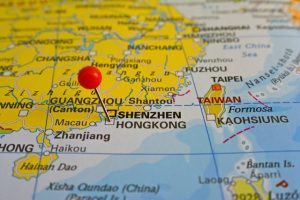 Where is Hong Kong located?
Where is Hong Kong located?
Located on the coast of southern China, Hong Kong is sandwiched between the South China Sea and the Pearl River Delta.
Best time to travel to Hong Kong
The best time to visit Hong Kong is during the autumn and early winter months, especially in the period between late September to late December, when the climate in this period is mild to do all the outdoor tourist leisure activities. It is worth mentioning :
Spring in Hong Kong (March to May)
Spring is a low season for tourism, with temperatures ranging between (18 – 28) degrees Celsius. However, it is an ideal time for tourism in Hong Kong, where you can attend many distinctive festivals such as the Hong Kong International Film Festival and others, in addition to visiting temples and museums and practicing many tourist activities.
Summer in Hong Kong (June to August)
Summer weather in Hong Kong is very hot and humid with frequent thunderstorms, but it is an ideal season for travel and tourism in Hong Kong. This is where you can relax in the beautiful tourist beaches and picturesque islands.
As well as enjoying theme parks, boating and kayaking, diving and visiting Sai Kung, attending the exciting Dragon Boat Festival, hiking in the wonderful trails between hills and mountains.
Autumn in Hong Kong (September to November)
Autumn is the best time for travel and tourism in Hong Kong. This is where the autumn months, starting from October, are characterized by ideal temperatures, averaging between 19 and 28 degrees Celsius. Allowing you to do outdoor activities such as a stroll along the magnificent Victoria Harbor, and visit the charming islands of Lantau, Lama and Cheung Chau.
In addition to the opportunity to attend the most important event which is the Mid-Autumn Festival, the second largest traditional Chinese holiday after Chinese New Year, dance with the fire dragon and watch the colorful lit Chinese lanterns.
Winter in Hong Kong (December to February)
Winter in Hong Kong is the best time to visit and discover the country, as temperatures range between (14 to 19) degrees Celsius, in addition to being the ideal time for shopping in Hong Kong.
Moreover, you can attend many big festivals, such as the Chinese New Year celebrations in Hong Kong, which is the biggest holiday in the region complete with spectacular fireworks shows and fireworks. As well as Christmas in Hong Kong and Disneyland, and the Music and Arts Festival.
The language in Hong Kong
Chinese is the official language used in Hong Kong, which is one of the largest Chinese cities. There are also many other languages, the most famous of which is English.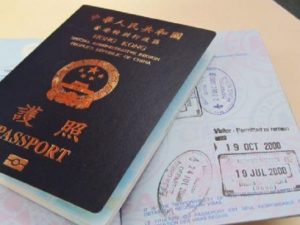 Hong Kong Tourist Visa
Hong Kong Tourist Visa
If you decide to take a tourist vacation in Hong Kong, you will definitely need to obtain a Hong Kong tourist visa. Here are the most important conditions and documents required for its extraction:
A valid passport, valid for a period of no less than six months, with two copies of the passport, and make sure that there are at least two blank pages in it.
Hong Kong tourist visa application form, fill it carefully and in clear handwriting.
A recent clear personal photo with a white background.
Proof of hotel reservation or accommodation in Hong Kong for the duration of the trip.
Round trip air ticket to make sure you leave the country.
Bring an insurance document covering the period of stay in Hong Kong.
Proof of financial ability to spend in Hong Kong for the duration of your trip.
You can extend your stay in Hong Kong only in urgent and special cases, one week before the end of your stay.
Make sure you need a transit visa during your trip or not.
Types of Hong Kong Tourist Visa:
The 14-day visa is granted to a certain number of countries and is granted to Algerians only.
The 30-day visa is granted to only seven countries (Oman, Morocco, Jordan, Saudi Arabia, Qatar, Tunisia and Kuwait).
The 90-day visa is granted to Egyptians only.
The ideal period for tourism in Hong Kong
Example duration
Tourism in Hong Kong is four to five days. The following is a Hong Kong tourism program that you can comply with or modify:
First day
Head to the Hong Kong Museum of History, Mong Kok, Tsim Sha Tsui Park, take in a breathtaking view of the Hong Kong Island skyline and don't forget to visit the Avenue of Stars, walk through Kowloon Park and many more.
the second day
You can ride the exciting Ngong Peng 360 cable car, and enjoy the panoramic views from the top. And then take a tour to experience the delicious food in Hong Kong. You can also ride the classic Chinese boat with a distinctive large sail and enjoy the best sea tours, watching the beautiful landscapes.
the third day
Walk the Ping Shan Heritage Trail, go to the Heritage Museum to explore the city's history and art, Chi Kung Temple, and enjoy the bustling nightlife.
the fourth day
Head to the top of the tram, the Hong Kong Museum of Art and Lan Kwai Fong, take a day trip to Macau, and then buy souvenirs at the city's wonderful markets.
The fifth day
On the fifth day, you can continue visiting the places you want to visit and practice what you want to do again, and then prepare to leave the country and return home.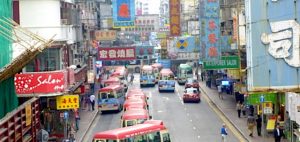 How much does tourism cost in Hong Kong?
You should do a good planning of your budget before traveling to tourist in Hong Kong, so here are the average costs of tourism and leisure activities in Hong Kong:
The average flight cost to Hong Kong International Airport (HKG) ranges from (742 to 1,341) US dollars per person for economy flights.
The cost of a flight to Hong Kong for first class ranges between (2,328 to 4,208) US dollars.
The average price for a one-week trip to Hong Kong is $1,480 for a single traveler.
The average price of a Hong Kong trip for a week is 2658 USD per couple.
Hotel rates in Hong Kong average approximately $81 per night.
Vacation rentals average $120 to $400 per night for an entire home.
The average daily expenditure per person in Hong Kong ranges between (46 to 81) US dollars.
Transportation and transportation in Hong Kong
Transportation and transportation in Hong Kong
Hong Kong has excellent transportation and transportation that meets all the needs of tourists. Here are the most important types of transportation in Hong Kong:
MTR
It is the most popular public transportation, and it is a convenient way. It is a mass transit railway, its stations are located in all the required places and each has several exits that lead to the most important buildings and institutions. It is a cheap way.
Taxis
Hong Kong taxis are a very convenient and inexpensive way to get from point to point around the city, they are readily available, and almost all drivers can speak English.
buses:
Hong Kong buses are very popular in the city, and they cover all parts of the city. Bus services start from early morning until midnight, and most of them are air-conditioned. You can pay in cash or through the Octopus Card, a "prepaid electronic card".
minibus
These are 16-seater public vans, which are faster than regular buses, but cost a bit more, and you pay either on board or off the bus.
tram
It is one of the oldest public transportation in Hong Kong, and is not only a means of transportation in the city, but also has become a popular tourist attraction. It is also a convenient way for short distances, or if you want to explore the city.
Star Ferry
It is a good and cheap sea transportation between Hong Kong Island and Kowloon Peninsula. It consists of two floors, an upper deck in the open air and another lower deck. It is one of the best ways to get a panoramic view of Victoria Harbor and Hong Kong skyscrapers.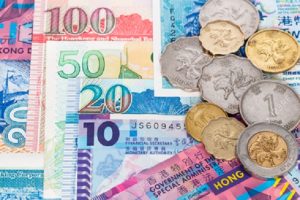 The official currency of Hong Kong
The official currency of Hong Kong
The Hong Kong dollar (HKD) is the official currency used and circulated in Hong Kong.
Communications and the Internet in Hong Kong
Hong Kong has a well-developed communications system, and there are many companies that offer many fixed-line, mobile, Internet and broadband packages, the most important of which are:
Wan Chai Hong Kong.
PCCW Tower Hong Kong.
HGC Telecom Tower (HGC).
The distance between the most popular cities in Hong Kong
To move between tourist cities within Hong Kong, here are the distances between the most famous major cities in Hong Kong:
East of Hong Kong 8 km / 5 miles.
Hong Kong to the islands 20 km / 12 miles.
Islands to Kowloon City 24 km / 15 miles.
Kowloon City to Kowloon 2 km/1 mi.
Kowloon to Kwai Tsing 7 km / 4 miles.
Kwai Tsing to Kwun Tong 11 km / 7 miles.
Kwun Tong is 22 km / 14 miles to the north.
Sai Kung to Sha Tin is 8 km / 5 miles away.
Sha Tin to Sham Shui Po 7 km / 4 miles.
Sham Shui Po to the south 10 km / 6 miles.
South to Tai Po 22 km / 14 miles.
From Tai Po to Tsuen Wan 9 km / 6 miles.
Tsuen Wan to Tuen Mun 15 km / 9 miles.
Twin Moon to Wanchai 25 km / 16 miles
Wong Tai Sin to Yao Tsim Mong 6 km / 4 miles.
Yao Tsim Mong to Yuen Long 21 km / 13 miles.
Yuen Long to Yuen Long Kau Hui is one kilometer/one mile.
Rent a car in Hong Kong
Driving in Hong Kong is one of the most wonderful ways to explore the country and its attractions, and enjoy watching the most beautiful landscapes on both sides of the road. There are a set of rules, tips and paper requirements, to be able to rent a car in Hong Kong, the most important of which are:
Choose the reliable company with the highest rating and good reviews from customers.
Inspect your vehicle for any pre-existing scratches and deficiencies before you drive in it.
Return your rental car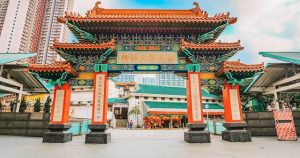 At the place and time specified in the contract.
Get tested as soon as possible, and avoid travel if you develop any of the symptoms of the coronavirus.
Be vigilant when driving or refueling your vehicle.
Wear a mask when you go down to rest or visit scenic spots.
Avoid visiting crowded tourist attractions.
Have a valid driver's license valid for at least two years.
The legal driving age in Hong Kong is 25 years.
Driver's credit card and ID card.
Best places to visit in Hong Kong
Hong Kong is a more than wonderful tourist city, and it is an excellent choice for shopping lovers, in addition to being a city rich in culture and history, in addition to its charming natural scenery. Learn the following 5 of the most important and most important tourist places in Hong Kong: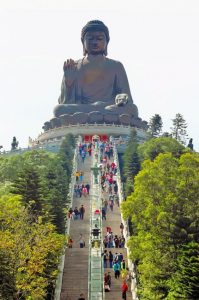 Wong Tae Sin Temple
Wong Tae Sin Temple
Located in Kowloon, Wong Tai Sin Temple is one of the newest temples in Hong Kong and is also one of the most interesting. The temple was built to honor the Taoist deity Wong Tai Sin, considered by locals to bring good luck in horse racing and cure ailments.
The Wong Tai Sin Festival is held at the temple every fall, so don't miss it to learn about the country's unique culture and arts. In addition to watching the many other displays inside the temple, and learning about its magnificent architecture, don't miss to make a small donation before you leave.
Tian Tan Buddha
The Tian Tan Buddha, or "Big Buddha," is one of the largest Buddha statues of its kind in the world. It took 12 years to build and is the most important tourist attraction in Hong Kong. It also enjoys a group of the most beautiful landscapes and picturesque islands surrounding it.
Enjoy a cable car ride with an enchanting tour over the forests, water and mountains, to reach the Tian Tan Buddha statue, get the wonderful panoramic views of the area from the top, and take the most wonderful souvenir photos.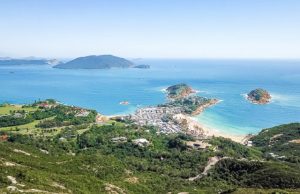 ocean park
ocean park
Ocean Park is one of Hong Kong's largest theme parks, and is one of its most famous landmarks. Ocean Park allows its visitors to do many exciting experiences such as discovering rare and exotic wildlife. You can also take part in the giant panda adventure, which includes giant pandas, red pandas and the endangered Chinese salamander.
As well as the aquarium, which is a huge dome of aquariums, and offers a look at 400 species of fish, and an opportunity to learn about sea stars and sea cucumbers. In addition to playing many amazing fun games.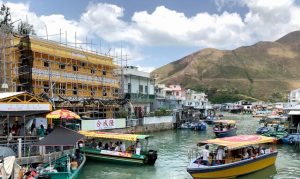 Dragon's Back Hike
high back dragon
The Dragon's Back High is one of the most important tourist attractions in Hong Kong, as this height provides stunning views of the ocean. The Dragon's Back High is the most popular hiking trail in Hong Kong.
It also allows you to ride bicycles, go to relax on the picturesque beaches and enjoy swimming, and eat the freshest seafood in the upscale restaurants in the area.
Tai O Fishing Village
Tai Oo Island
Tai Oo Island is one of the most important and beautiful tourist attractions in Hong Kong. It enjoys tranquility because it is away from the hustle and bustle of the city and the bustling markets. You can also take cruises by boat, and see wonderful landscapes.
You can also see the rare and endangered pink dolphin, and explore homes built on stilts above tidal flats.
Tips before traveling to Hong Kong
There is a range of information and tips that can help you get the perfect tourist vacation in Hong Kong, here are some of them:
Buy the Octopus Tourist Card
In order to facilitate movement in Hong Kong through public transportation.
Learn some Cantonese phrases
Because it will help you a lot during your holiday in Hong Kong, especially when buying something or asking for the way.
Pay attention to the food culture in Hong Kong
Always bring tissues with you as most restaurants in Hong Kong do not serve them. And learn to eat with chopsticks, because most small restaurants don't have forks or spoons. And be careful not to put the chopsticks on each other, because it is believed that this brings bad luck.
Always be careful and watch your things
Although Hong Kong is one of the safest places in the world for tourism, there is nothing to worry about, but always be careful not to get scammed like foreign exchange and counterfeit goods.
Don't forget to watch the horizon
Skyline watching while in Hong Kong is a must, and the best places to view the city's gorgeous skyline are at The Ritz-Carlton and Victoria Peak.