Parliament allows visitors to form role-playing groups, where in the
game the visitor takes the place of a member by working on the committee, the press, or the bicycle, and the players practice legislative work in a playful fashion.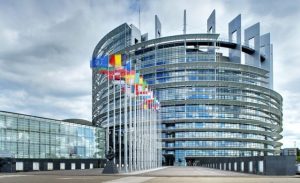 Strasbourg Cathedral
The Cathedral of Strasbourg is one of the most important tourist destinations in Strasbourg, and it is called the miracle of the giant and the delicate, a masterpiece of Gothic art, and contains a tower with a height of 142 meters that was the tallest building in the Christian world until the nineteenth century.
The facade of the cathedral is the largest picture book of the Middle Ages. Hundreds of carvings appear on it, along with the effects of light and shadow. The pink sandstone of the cathedral changes color depending on the time of day and the color of the sky.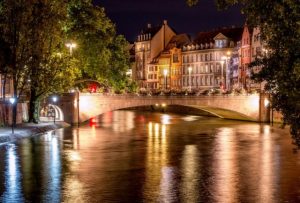 The cathedral rises 66 meters above the ground, giving a complete panorama of the western side of the city, and provides tourists with 3D displays to enjoy watching the history of the church and the many legends that are told around it.
Museum of Modern and Contemporary Art
The museum is one of the most important tourist destinations in Strasbourg, and it is designed in a modern and attractive way. The museum consists of a number of squares, including: the Modern Art Course, the room dedicated to the works of Gustave Doré, and the Graphic Arts and Photography Cabinet.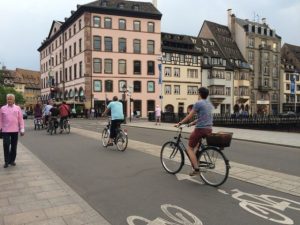 The museum is one of the places to bring joy and artistic inspiration to visitors, and it is developing a diverse program to renew the way people perceive artists. It is built on a large glass plaza that opens its doors to all the museum halls.
Enjoy visiting the museum and participating in the museum's training courses for visitors from 1870 to the present, featuring a rare collection of works by Jean Arp, Victor Brauner, and some great contemporary works.
The Great Mosque
The Grand Mosque in Strasbourg is one of the distinctive places that are active in many social events, and it was the largest in terms of area at the time of its establishment in 2012 to accommodate more than 1,200 worshipers.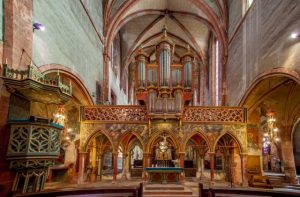 Annual scientific conferences are organized that bring together prominent Muslim scholars and thinkers to discuss theological, philosophical and social topics, and the mosque does many charitable works through its Solidarity Fund.
Enjoy visiting the mosque on the banks of the El River, learn about the mosque's role in encouraging scientific discoveries, holding knowledge competitions among young people, as well as games and drawings under the supervision of their teachers.