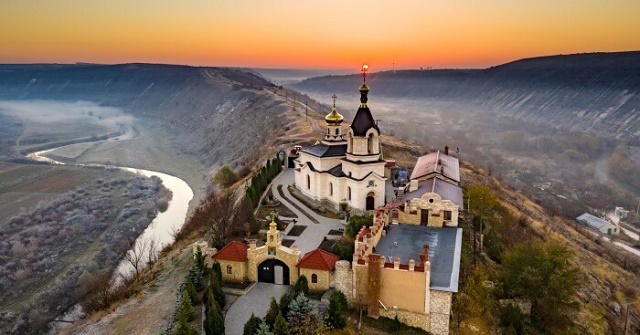 Tourism in Moldova and the most important 7 tourist destinations worth exploring and visiting
Tourism in Moldova and the most important 7 tourist destinations worth exploring and visiting
Tourism in Moldova is yet to be discovered, and although it is a landlocked European country, it has a lot to offer. Because Moldova is a remote country, it is an ideal tourist destination for people looking for seclusion, tranquility as well as adventure. Here in this article is your comprehensive guide, about tourism in Moldova and the top 7 tourist destinations we advise you to visit…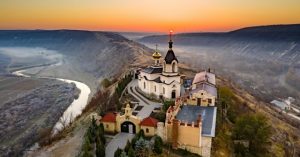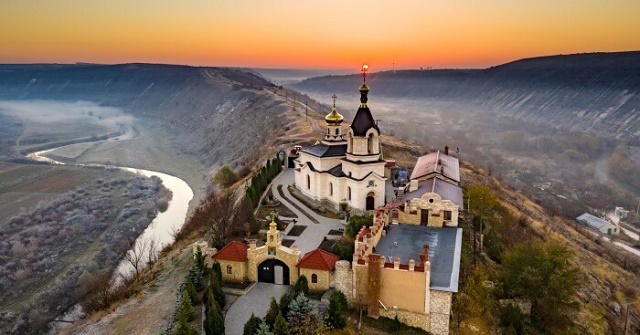 Moldova is unique with its fantastic landscapes, pristine countryside, interesting historical sites, and important religious places such as monasteries, among others. Moldova allows its visitors to enjoy exploring wildlife, visiting diverse reserves, and watching stunning landscapes, where rivers and valleys are located, in addition to many other tourist attractions.
Tourism in Moldova
Discover tourism in Moldova
Moldova is also distinguished by the preservation of customs and traditions, as well as the authentic hospitality, especially in the rural villages of Moldova. Here's Explore Tourism in Moldova, learn the most important information and tips before traveling and the most recommended tourist attractions.
Best places to stay in Moldova
Moldova has many diverse hotels and accommodations, to suit all tastes and different budgets, to learn about their prices, how to book, and its proximity to tourist places… Read more about the best places to stay in Moldova.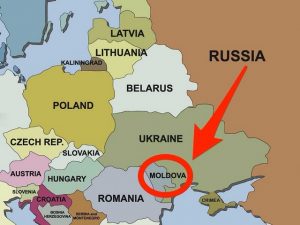 Where is Moldova located?
Where is Moldova located?
The Republic of Moldova is located in the eastern part of the continent of Europe, between Romania to the west and Ukraine to the east.
Best time to travel to Moldova
The best time to travel to Moldova is during the spring and autumn months, between (May to July). This is due to a combination of factors such as weather, cost of flights, accommodation and peak tourist periods. The weather is mild, and the countryside is full of cheerful colours, making it the perfect time for exploration and outdoor tours. It is worth noting that:
Spring (March to May):
Spring is the ideal time for travel and tourism in Moldova, as it is characterized by a mild climate, with temperatures ranging between (25.6_5.9) degrees Celsius. Flowers fill the country with bright colors, allowing you to roam the outdoors, see a group of wonderful landscapes, as well as the possibility of attending many celebrations and national holidays.
Summer season (from June to August):
Summer in Moldova is also an ideal time for tourism, as it has very comfortable weather with favorable temperatures, with chances of rain. Summer is the second busiest season in the capital, Chisinau. This is where you can do a range of fun activities and wonderful sightseeing tours.
Autumn season (from September to November):
Autumn in the Republic of Moldova is characterized by cold, humidity and wind, with temperatures ranging between (25.1 – 5.7) degrees Celsius. It is also an ideal time to travel to Moldova, due to the low prices, and the ideal conditions for falling leaves in a wonderful scenery. It also lets you explore the country away from the crowds of tourists and crowds.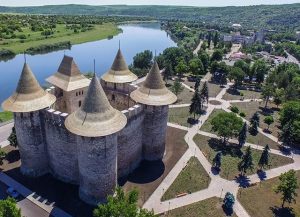 Winter season (from December to February):
Winter in Moldova is very cold, but very interesting for tourism and to do many interesting tourist activities and winter games. Temperatures range between (5.9 _-0.4) degrees Celsius, and the splendor of watching snowfall, and attending wonderful celebrations such as New Year's celebrations and Christmas holidays, do not hesitate to visit Moldova in the winter, if you are a fan of the winter weather.
The language in Moldova
Romanian is the official language of the Republic of Moldova, and there are several major minority languages ​​in Moldova, including Russian and Ukrainian Jaguar.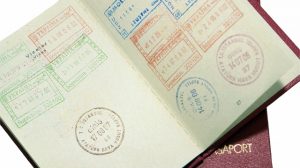 Tourist visa in Moldova
Tourist visa in Moldova
To obtain a tourist visa in Moldova, you must follow a set of rules and conditions and submit some necessary papers for this, the most important of which are:
Apply for a Moldova visa electronically, fill it out, sign and print it.
Pay the e-visa fee of €60.
A passport valid for at least three months from the end of your tourist trip in Moldova. A copy of the scanner from the passport.
Recent personal photos with white background, size (35 * 45).
Your tour program about the most important landmarks and places in Moldova that you intend to visit.
Travel health insurance valid in Moldova and not less than 30,000 euros.
Reservation of a round-trip air ticket to ensure departure from Moldova.
Proof of hotel reservation or accommodation for the duration of your trip within the Republic of Moldova.
Proof of financial ability to spend within the Moldovan territory during your tourist vacation, or a bank statement for the last 6 months.
Have a valid Schengen visa, or residency in the European Union, or a valid American residency.
The ideal period for tourism in Moldova
The ideal period of tourism in Moldova is about 6 days, which is enough time to explore most of the important landmarks of Moldova, and the following is a program
Tourist in Moldova that you can take or modify:
Day 1 and 2: Explore Chisinau
You can spend the first and second day visiting and exploring Chisinau, the capital of Moldova. This large city includes a lot of recreational parks with wide green spaces, and you can visit religious places, multiple historical sites, and high-end restaurants and cafes.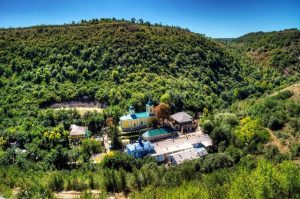 Day Three and Four: Soroka Visit
The city of Soroka is one of the important tourist cities in Moldova. After exploring Chisinau, you can head to the wonderful Soroka, explore its historical landmarks such as the medieval Soroka Castle, and enjoy wandering the city and seeing the wonderfully colored houses.
Day 5: Visit Tiraspol
Then head to Tiramsol, which is characterized by its Soviet character, and enjoy watching many historical and archaeological monuments, museums, and relax in the multiple theme parks.
Day Six: Visit Bender
End your tour in Moldova with a day tour in the charming city of Bender, have the best leisure time around the Dniester River and get the most beautiful landscapes, ancient historical monuments. In the evening, get ready to leave Moldova and return home.
How much does tourism cost in Moldova?
It is imperative to plan well your budget before starting your tourist trip in Moldova. Here are the average tourism costs in Moldova:
The average cost of accommodation in Moldova per person ranges between (172 to 634) Egyptian pounds.
The average trip cost per person for a week is about $281.
The cost of daily use of public transportation in Moldova is approximately 1.80 EGP for a one-way ticket.
The average price for renting a car in Moldova is around 335,000 EGP.
The average cost of fast food in Moldova is approximately 81 EGP.
Daily expenditure on bottled water is approximately $0.69.
The average price for leisure activities in Moldova per day per passenger is 19 USD.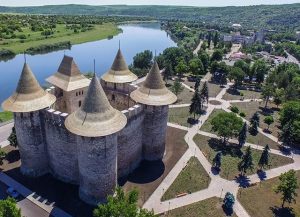 Transportation and transportation in Moldova
Transportation and transportation in Moldova
Moldova has a wide range of transportation and transportation, which you can use to move between its tourist cities. The following are the most important types of transportation and communications in the Republic of Moldova:
bicycle:
Moldova has good roads, which makes cycling a fun way to explore the country and its amazing attractions. Especially if you are a fan of adventure and exciting experiences.
buses:
The Republic of Moldova has a wide network of diverse buses, which reach most of the towns and villages. Among them are minivans or Marchrotke, which are distinguished by their reasonable prices for all classes and their high efficiency.
Car or motorcycle rental:
Due to the good condition of the roads that Moldova is blessed with, renting a car or motorbike is a preferred and quick way to get around within the country. And that while enjoying the view of the landscape on both sides of the road.
Railways:
Moldova has a range of efficient and high speed local trains. Chief among them are the rare flights between Tiraspol and Chisinau, which are about five per week.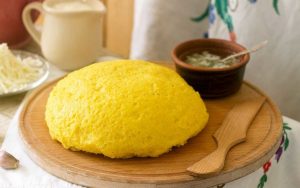 Food and drinks in Moldova
Food and drinks in Moldova
The food in Moldova is rich and delicious, as it is made up of the bountiful goodness of nature, such as vegetables, fruits, meat, grapes, grains and dairy products. All of which are key ingredients in the country's traditional dishes. Here are the most famous traditional food and drinks in Moldova:
Sarmale: It is cabbage or pepper leaves stuffed with seasoned rice and some other vegetables, and served with sour cream. Mamaliga: polenta, served with diced meat, cheese, fried meat and cream. There is also "Zeama" and "placenta" and others. Moldovan cuisine is served with a variety of traditional drinks such as stewed fruit juices, fresh juices and more.
The official currency of Moldova
The official currency of Moldova
The official currency of the Republic of Moldova is the Moldovan leu, denoted by the symbol MDL.
Communication and the Internet in Moldova
Moldova has a strong telecommunications infrastructure, with one of the best and cheapest global telecommunication and wired Internet services. Moldova includes many companies and providers of high-speed Internet (4G, Broadband, DSL, ADSL and Cable), the most important of which are:
StarNet
Moldtelecom
Arax-Impex
Mango Telecom
Orange Moldova
Sun Communications
Distance between the most popular cities in Moldova
To move between the tourist cities in Moldova, easily and conveniently during your tourist vacation, you should familiarize yourself with the guide to distances between cities, to determine the closest to you. Here is the distance between the most famous tourist cities in Moldova: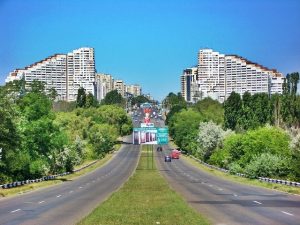 Chisinau to Tiraspol 62 km.
Balti to Bender 156 km.
Cahol to Anngeni 147 km.
Soroka to Orhei 94 km.
Komrat to Edent 231 km.
Chisinau to Soroca 256 km.
Kumrat to Soroka 155 km.
Balti to Tiraspol 200 km.
Balti to Bender 188 km.
Soroka to Tiraspol 215 km.
Rent a car in Moldova
If you want to explore Moldova, enjoy watching the most beautiful roadside landscapes on your own while driving. All you have to do is rent a car. Here are the most important guidelines and basic rules, which you must follow in order to be able to rent a car in Moldova:
Driving is on the right side in Moldova.
The basic age to rent a car is 23 years, and to drive in Moldova the minimum age is 18 years.
Every passenger in a moving car in Moldova must wear a groove
Umm safety.
Have a driver's license valid for at least one year.
It is imperative that you turn on your headlights while driving in Moldova.
Driving under the influence of alcohol is a punishable offence in Moldova.
Request an insurance policy from the company.
You can book the car you want to rent in Moldova online.
Inspect your car well and make sure of all scratches and malfunctions so that you do not pay extra fees on delivery.
Commitment to the speed limits in Moldova: urban speed limit 50 km / h. rural speed limit 80 km / h. Road speed limit 110 km / h.
The best tourist cities in Moldova
Moldova, once part of the Soviet Union, is a landlocked European country that is well worth discovering and visiting for yourself. It is a historically interesting tourist destination with beautiful natural scenery. Learn about the most important and best 7 tourist cities in Moldova…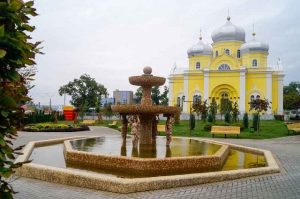 Tourism in Chisinau
Tourism in Chisinau
Chisinau is the largest city in the Republic of Moldova, and is the cultural and economic center of the country, as well as the capital. Chisinau has a great location on the banks of the famous Bac River, and this has made it one of the most important and most visited tourist cities in Moldova.
Chisinau has a group of amazing landscapes, where you can spend the most enjoyable times. Among them are Pusheen Park, the beautiful cathedral garden, as well as long walks on the banks of the river or in the vast greenery.
You can also wander the city streets and see many of the old historical buildings and landmarks such as the Presidential Palace, the orange pyramid of the World War II memorial. In addition to exploring the Cathedral of the Nativity, a collection of the best artworks and frescoes in the art galleries. In addition to restaurants, cafes, bustling nightclubs and spas.
Tourism in Saharna
saharna
Saharna is a small town in Moldova but has a special charm. It is a city that enjoys many attractive tourist and religious elements. It is considered the home of pilgrimages, as it is believed that the footprints of the Virgin Mary were fixed on a rock called "The Rock of the Virgin Mary".
Saharna is an ideal city for tourist holidays, as it offers its visitors comfort, tranquility and harmony in the lap of unspoiled nature. In addition to the Saharna River, which contains 22 waterfalls, the most famous of them is "Gypsy Hole Waterfall".
You can also enjoy many enjoyable recreational activities, the most important of which are enjoying long walks that provide you with wonderful views of the surrounding area, and visiting monasteries such as the Monastery of the Holy Trinity and the Cave Monastery. It really is a city worth visiting.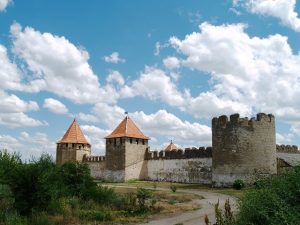 Tourism in Comrat
komrat
Located about 100 kilometers from the national capital Chisinau, on the Yalu River in the southwestern part of the Republic of Moldova, the city of Comrat is one of the country's most important tourist attractions, with a lot of wonderful sights.
Kumrat is home to many surprising museums and art galleries, such as the Jaguz Culture Museum of National History and Ethnography, Jagozian Art Gallery, and the Museum of Local History, as well as visiting world-class shopping malls and fine restaurants.
In Comrat, the visitor also enjoys exploring St. John's Cathedral, which was built in 1820 AD. You can also go to the spa treatment and well-being center, relax in the national parks, walk and cycle, and many other interesting activities and games.
Tourism in Tiraspol
Tiraspol
The city of Tiraspol is the capital of Transnistria, and it is the second largest and most important city that we recommend you to visit in Moldova. It is also an important center for light industry, which includes the manufacture of furniture and electronics. It is not recognized internationally after the fall of the Soviet Union, but it is an impressive city.
Tiraspol offers the opportunity to do one of the unique experiences, as it allows visitors to enjoy visiting the statue of Alexander Suvorov "the founder of the city", the memorial, as well as the monument to the World War II tanks.
The city also allows you to take a boat cruise on the Dniester River in Tiraspol, relax or take a walk along the river. As well as visiting the House of the Soviets (Dom Sovetov), ​​the Church of the Nativity, as well as wandering the quiet city streets, and discovering the real life of the locals, who are calm, moral and friendly.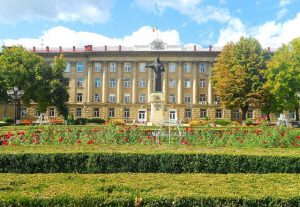 Tourism in Balti
Balti
Balti is the third largest city in Moldova in terms of population. It is located in the northern part of the country on the banks of the River Raut. Balti is also the commercial and cultural center of northern Moldova, where it is popularly called the "Northern Capital".
Balti offers you to enjoy an exciting range of recreational activities for tourists, most notably exploring the many galleries and art theaters such as the Republican Puppet Gallery "Fireflies", the Vasily Alexandri Theater, and Aliko Rosso University which is home to Moldova's second largest city.
You can also visit the historical Orthodox Church of St. Nicholas, the Cathedral of St. Constantine and Elena, as well as recreation centers and children's gardens, the Episcopal Palace and Artum Gallery.
Tourism in Soroka
Soroka
The city of Soroka is located in the northern part of the Republic of Moldova, near the border of Ukraine, and it overlooks the picturesque Dniester River, and it is one of the most beautiful tourist cities in Moldova.
Soroka has many wonderful historical and archaeological attractions that are worth visiting and exploring. The most important of which is Soroka Castle which is a stunning example of medieval architecture.
You can also take recreational tours in Soroka, visit the beautiful city fountain, the Dniester River, Central Park, the Gradina Publica, Petro Rares, the monument, and Mount Bakirova, and
Bakirov bridge, memorial complex, wind tower, ethnography museum.
Tourism in Bender
Binder
Bender is a city located under the autonomous region of Transnistria in Moldova, and it is the most beautiful city in it, which offers you a set of landscapes and vast green spaces, which attracts many visitors and tourists. It is also called Bandar.
Enjoy visiting the city's many cultural and historical centers, such as exploring the remains of the magnificent 16th century Bender Castle, and the well-preserved historic military cemetery.
You can also see the stunning architecture of the Transfiguration Cathedral in Bender, the Capriana Monastery, the Statue of Vladimir Lenin, the National Museum of Fine Arts, as well as the Moldovan National Opera Ballet.
Tips before traveling to Moldova
Before you visit Moldova, here are some of the most important tips and guidelines that can help you have the best tourist vacation:
Make sure you get travel insurance
Since treatment and medical bills are very expensive in Moldova, if you get sick or injured unexpectedly while on vacation in Moldova, you will need to have travel insurance. Make sure of it
Avoid using ATMs on the street
This is because they are not reliable, so we advise you to get money from ATMs inside banks, so as not to be exposed to a scam or fraud in Moldova.
Make sure to carry your ID card with you anywhere
In the event that you are arrested by the police, so that you do not face fines in Moldova.
Have good manners
Be polite and don't talk about politics, and don't say inappropriate or sexually suggestive things about Moldovan women so you won't be punished.
Stay away from crowded places and pay close attention to your belongings
Watch out for roaming the busy city streets of Chisinau, on buses and trains, as well as unlit parks at night, and dark alleys in order to avoid theft or pickpocketing during tourism in Moldova.